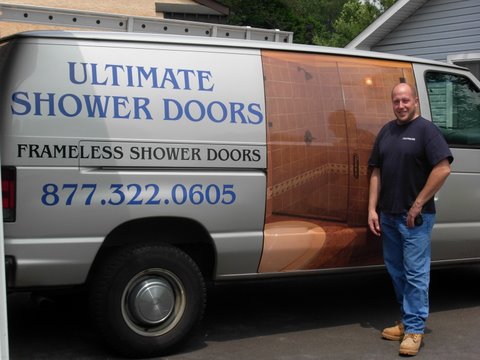 About Us:
With over 24 years in the glass business, owner and CEO Brian Primrose has a simple approach to doing business. "Stand behind your work and continually satisfy your customers."

With a customer base in southeastern Pennsylvania, New Jersey and New York, we specialize in frameless shower doors, custom mirrors and furniture tops, artistic glass, commercial store fronts and customized etching of glass and mirrors. We have many designs which can be viewed in our showroom, and we also enjoy working with our customers to develop and carry out their own unique designs and visions.

If you are looking for a personalized gift, we also create mirrors and frames for special occasions like weddings, anniversaries, births and commemorations.

Meshing art and technology, we work with precision and creativity to create memorable glass and mirrors. These powerful principles have driven the success and preserved the character of our company. We are committed to maintaining a consistently high standard of quality in our work to consistently delight the senses of our customers.

What we have accomplished can be credited to our company leader. Brian Primrose has the ability to think long-term and focus on strong relationships with our customers. Brian is a strong, committed, self-reliant individual who is never wanting for original ideas, and he has the ability and vision to blend those ideas with those of our customers and bring them into reality.

We would like to thank all our customers for choosing us. Our professional staff is always ready to help you with your glass and mirror needs. As always, our main focus is to continue to adhere to the principle of superior quality and customer service.